Summary:
Set after S2, ep 21. Sara is sent to prison for her part in the escape, but is broken out by an unlikely ally who is supposed to take her Panama to rendezvous with Michael - no killing, no complications.

But Chicago to Panama is long way to drive when you hate the person you're with. Sparks WILL fly!
Written in response to the Redemption Challenge.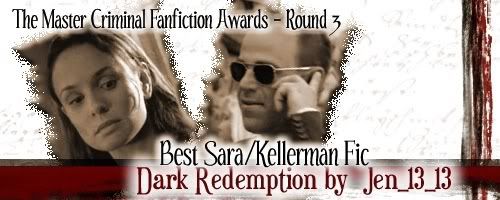 Yes, I did just actually figure out how to put the banner up I received months ago. Yes, I am that stupid. ;)
Categories:
Post-Escape
,
Alternate Universe
Characters:
Agent Paul Kellerman
,
Caroline Reynolds
,
Jane Phillips
,
Lincoln Burrows
,
LJ Burrows
,
Michael Scofield
,
Sara Tancredi
Genres:
Action/Adventure
,
Angst
,
Drama
,
Friendship
,
PWP/Smut
,
Romance
,
Tragedy
Pairing:
Kellerman and Sara
,
Lincoln and Jane
,
Michael and Sara
Warnings:
Character Death
,
Darkfic
,
Drugs/Drug Use
,
Extreme Language
,
Graphic Violence
,
Incest
,
Kink
,
Sexual Situations
,
Spoilers S2
Challenges:
Redemption
Series:
Smarmy Assassin
,
Gettin' Whimsical with KeSa
Chapters:
14
Table of Contents
Completed:
Yes
Word count:
21622
Read Count:
26131